Return to Noshaq Campaign
Read the Julghar minefield final report (November 2009).
Linking humanitarian mineclearance with sustainable tourism and development
Download Printer Friendly Brochure
Imagine if no one could get to Everest or K2 - what would happen to mountaineering and trekking in Nepal or Pakistan? What would happen to the people who live around those peaks? Afghanistan faces this situation today. Its highest peak, Noshaq (7492m), is virtually inaccessible because the route to base camp is blocked by landmines.
Noshaq (7492m) is Afghanistan's highest mountain and the second highest peak in the Hindukush Range
Noshaq has a solid, pre-war history of mountaineering expeditions —

Noshaq's first ascent was in 1960.
Noshaq has seen about 32 successful ascents between 1960 and 1978.
Noshaq was the world's first winter ascent of a 7000m peak in 1973.


Noshaq has a very promising future —

Noshaq's standard route, its long and gentle West Ridge, is "potentially one of the most popular objectives for commercially organized expeditions aiming to climb a high, but nontechnical peak."
Noshaq Base Camp is Wakhan's best short trek — an easy three days with a trailhead just one hour's drive from Ishkashim — where trekkers enjoy views of four 7000m peaks.
Return to Noshaq is a campaign to remove landmines from three unmarked minefields in the Qazideh Valley - the only minefields in the Wakhan District of Afghanistan's Badakhshan Province.
The mines were laid in 2000 by the Northern Alliance to prevent the Taliban from launching an attack on Ishkashim. Taliban at that time were crossing from Pakistan into Badakhshan via other mountain passes, and the Ishkashim commandant wanted to seal any possibility of attack via the nearby Qazideh Valley.
The approximately 1,000 villagers of Qazideh cannot graze their livestock in traditionally used pastures in the valley. They are afraid to gather fuelwood for cooking and heating their homes from the valley, yet they still risk their lives to do so because no alternatives exist.
The landmines also obstruct the route to Noshaq (7492 metres), Afghanistan's highest peak, as they lie along the standard trail near water sources and camp sites.
Benefits of the Project
Clearing the minefields would reopen the valley for the villagers, end landmine casualties and suffering, and reopen Noshaq for climbers and trekkers. Those of us who venture into the mountains are aware of and respect the objective dangers posed by the landscape, but manmade dangers leftover from war and conflict have no place in the mountain realm. This 'Return to Noshaq' would be a source of national pride for Afghanistan and generate much needed sustainable tourism income for residents. The success of this project will have the added benefit of stimulating tourism to all of Wakhan and the Afghan Pamir.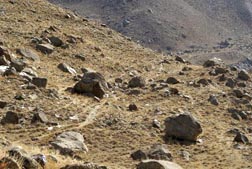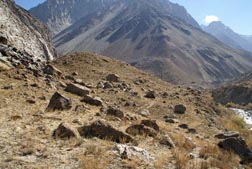 In October 2007, The HALO Trust - a nonprofit organization engaged in humanitarian clearance of landmines in nine provinces in northern Afghanistan - completed its general and technical surveys of the Qazideh Valley to determine the feasibility for clearing the minefields and prepared a project budget of U.S. $99,485. The largest part of the budget is $51,800 for salaries. The project would employ 54 Afghan staff working in two teams for five months. Other budget components include: $36,277 for operating costs (food, equipment, supplies, medical, communications, insurance); $4,726 for body armour, detector parts and radios; and $6,682 for administration. (Additional budget details are available upon request.)
To get this project onto HALO's 2009 work schedule, we need to raise almost U.S. $100,000 by March 31, 2009.
To complete the project within one calendar year, work would need to start by June 1st. (As the March 31, 2008 fundraising date was not met, the project will shift to the 2009 work schedule with an alternative date of raising funds by March 31, 2009. If for any reason, all funds could not be raised by March 31, 2009, the funds would be allocated to other humanitarian mineclearance projects in Badakhshan.